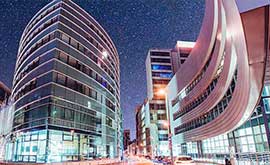 There are two ways to attract prospects to your business:
One - pay for online ads (Google, Facebook, etc). Your business will be promoted at the top of Google search results, but this is an expensive option. And once you stop your ad program spending, your business disappears from the top of the search results.
Two - you can invest in SEO which has a long-term positive impact on your ranking in Google (or other search engines like Bing, Yahoo, etc.).
Think of it like renting vs. buying a house. With paid ads, you rent the space from Google – usually at a premium price – but you never own it. With SEO, you are making specific improvements to your website that allows your business to rank higher on Google, without having to pay for ads.
Of course, you can combine the two methods and use both paid ads as well as developing a strong organic presence for your business via SEO.